2018 NM Fire Muster & 5K Race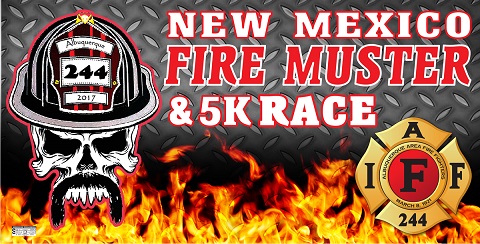 Attention Members,
IAFF Local 244 will be hosting the 2nd Annual New Mexico Fire Muster and 5k on June 16, 2018 at Balloon Fiesta Park. The NM Fire Muster & 5K event was created to support and raise money for the IAFF Local 244 Survivor's Fund and Membership Assistance Program. Unfortunately, the number of firefighters being diagnosed with cancer and other illnesses has risen and gratefully, the Survivor's fund has been there to help. Now we need your help to continue to support and raise money to take care of these unfortunate circumstances!
There will be a 5K race along with a 1-mile family fun run in the morning, which are open to the public. Firefighters will be able to compete in a modified combat challenge with either a team of 3 or individually. This event will also feature live bands, food trucks, fire truck show, and a beer garden supplied by Desert Valley Brewery featuring the official "244 RED". This event is open to the public, and has no admission charge! We just ask that you make a donation at the event.
Please view the event poster for additional event information. For registration, information or to make a donation please email: NMFIREMUSTER5K@GMAIL.COM
Download:

Musterand5k_2018.pdf