| | | |
| --- | --- | --- |
| | | |
| | | |
| | | |
The IAFF Local 244 Executive Board has recently renegotiated a new contract with Designated Drivers on Demand, LLC which will be in effect for the next 12-months. The program has proven successful over the past year and we are happy to continue offering this service to the membership. We encourage members to sign-up and participate in this program.
IAFF members must come by the Union Hall or contact an Executive Board member to fill out the required documentation in order to take advantage of this program. The documentation must be completed prior to any use of Designated Drivers on Demand, LLC. Once completed members will be able to contact Designated Drivers, LLC for a safe ride home for themselves and/or their spouse/domestic partner (member must be present) anytime the service is needed.
Come out and support Carrie Tingley Children's Hospital! The Firefighter & Police Football Team (Public Safety Team) is playing the New Mexico Stars, Professional Arena Football Team in full contact football. Game Time: Sunday March 9th, Kickoff 2pm, Santa Ana Star Center. This is a fundraiser event. Bring your family and friends to help raise as much money as we can. Read More...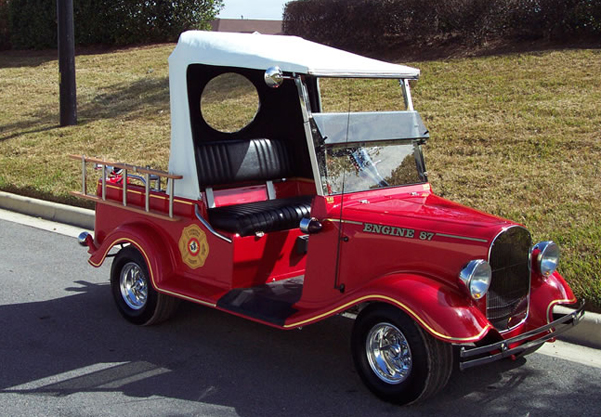 On Saturday, April 5th 2014, the Albuquerque Area Fire Fighters will host the 3rd Annual 'Swing for Survivors' Golf Tournament to Benefit the IAFF Local 244 Firefighters Survivors Fund (FSF). The FSF provides financial assistance to firefighters, spouses and children of firefighters who have been stricken with life threatening medical conditions. Proceeds will also go to support The Leary Firefighters Foundation which was established in 2000 by actor Dennis Leary in response to a tragic fire in Worcester, Massachusetts that claimed the lives of Dennis's cousin, a childhood friend, and four other firefighters. The Leary Firefighters Foundation's mission is to provide funding and resources for Fire Departments to obtain the best available equipment, technology and training. The tournament will take place at the Desert Greens Golf Course in Paradise Hills located at 10035 Country Club Lane, NW, Albuquerque, NM. Shotgun start at 9:00a.m. Click on PDF below for the registration form. Call Lt. Martin Salazar for more information.
Download:

2014 FSF Benefit Golf Tournament.pdf
Lt. Bruce Britt, a 23-year veteran of the Columbia Fire Department, died yesterday morning while working at the scene of a walkway collapse at a University of Missouri apartment complex. Britt, 48, suffered fatal injuries while trying to assist residents at University Village, 601 S. Providence Road, Columbia Fire Chief Charles Witt said. Read More...
The IAFF Local 244 is looking to put together a team of Firefighters and family to participate in this year's annual charity event. St. Baldrick's began as a head-shaving event and that continues to be the signature event of the Foundation. Read More...
78% of 606 eligible members of the IAFF Local 244 City Chapter have officially ratified the Collective Bargaining Agreement with 94% approval. (433 Yes, 41 No).
The Executive Board would like to acknowledge the IAFF negotiating team for their unwavering leadership. Special thanks to the membership on the frontlines for their commitment to our great union and the community we serve.
The IAFF Local 244 City Chapter Collective Bargaining Agreement (CBA) has been tentatively agreed upon as of today, February 13, 2014. We strongly encourage all members to attend the General Membership Meeting scheduled for tonight February 13, 2014 at 7:00pm to discuss the terms of the TA'd CBA.
Members are also encouraged to attend the Informational Sessions scheduled on the following dates:
Tuesday February 18, 2014 at 6:00p.m. at the Union Hall
Thursday February 20, 2014 at 6:00pm at the Union Hall
The ratification vote will take place on Friday, February 21, 2014 from 7:00am -7:00pm in accordance with Article II, Section 2 and Article XI of the IAFF Local 244 Constitution & By-Laws. The designated poll sites will be: Union Hall, AFD Station 8 and AFD Station 17.
To review the strike-and-delete version of the TA'd agreement, log in and click on the Contracts section under main menu.
President Arencón would like to acknowledge the City Chapter Negotiating Team; Captain John Roumpf, Captain Gabe Blea, Driver Max Heyman and Mr. Paul Broome for their diligent work and leadership in representing our collective interests. A job well done!
As you all are aware the City Council unanimously approved an appropriation for our contractual financial proposal (see PDF below). Negotiations have been ongoing for over 2 years and we are happy to announce that they are moving forward. The negotiating teams are expected to tentatively agree within the next couple days and bring a contract to the membership for a ratification vote in accordance with Article II, Section 2 of the Constitution & Bylaws. Be advised, once the negotiating team tentatively agrees to the proposed CBA we will immediately make the announcement for the five (5) day notice for a ratification vote.
Download:

R-14-22 Appropriation for Fire.pdf ,

News From Fire Fighters 2-3-14.pdf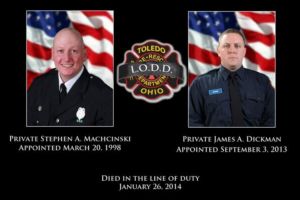 January 28, 2014 – It is with deepest regret and sorrow to report the line-of-duty deaths of fire fighters Stephen Machcinski, 42, and James Dickman, 31, members of Toledo, OH Local 92. Both men wwere killed in the line of duty January 26, 2014, while battling a fire. These are the city's first fatalities in an active fire since 1981.

Memorial service details are as follows:

The Last Alarm Memorial Service in honor of Toledo fire fighters, Stephen A. Machcinski and James Dickman is scheduled for Thursday, January 30, 2014, at the SeaGate Convention Centre from 7:00 p.m. - 9:00 p.m.

Contacts:
Apparatus questions: A/Deputy Chief Richard Syroka, (419) 936-3507
Pipes & Drums questions: Deputy Chief Brian Byrd, (419) 392-7149
Honor Guard questions: Private Jeffrey Keonigseker, (419) 349-5055

The public is invited to attend. Doors open to the public at 6:00 p.m. Seating capacity is limited to 5,000.

Private funeral services for the families and the fire department will be held at a later date.

For more information contact:
Lt. Matthew Hertzfeld, Toledo Fire & Rescue, (419)392-4550
Doug Stern, OAPFF Communcations, (513)919-4311
The Toledo Fire Fighter Memorial will be live streamedThursday, January 30 at 7:00 p.m. Click here to watch.
January 17, 2014 – After months of political wrangling that frayed partisan tensions and resulted in a lengthy government shutdown, Congress wrapped up its work this week on legislation funding the federal government for Fiscal Year 2014. The bill, H.R. 3547, passed the Senate by a vote of 72-26. It passed the U.S. House of Representatives 359-67 earlier in the week.
The bill includes $340 million each for the Staffing for Adequate Fire and Emergency Response (SAFER) and Assistance to Firefighters (FIRE Act) grant programs, an increase of $5 million over last year's funding levels - an unusual victory in today's difficult budgetary environment. The bill also extends the SAFER waivers for Fiscal Year 2014. The waivers, which were first enacted in 2009 after an exhaustive lobbying campaign by the IAFF and its members, ensure that fire departments can use SAFER grants to rehire and retain fire fighters, in addition to hiring new personnel.
"This is a significant victory for fire fighters nationwide," says IAFF General President Harold Schaitberger. "The additional funding made available for SAFER and FIRE Act grants will not only help hire, rehire and retain fire fighters and paramedics, but will also allow fire departments to purchase equipment and pay for training they might otherwise have gone without due to local budget shortfalls.
In addition to funding for SAFER and FIRE Act grants, the legislation also contains new funding to train fire fighters in hazardous materials response. This funding was included at the request of the IAFF, and is in direct response to last year's deadly fertilizer plant facility explosion in West, Texas. A significant percentage of first responders are not adequately training to respond to emergencies involving hazardous materials; this funding is intended to help rectify this training gap.
The bill also includes a provision restoring the full cost-of-living (COLA) adjustment for disabled veterans. Congress had previously reduced veterans' COLAs as part of the Bipartisan Budget Act. Although the fix in H.R. 3547 does not restore funding for non-medically retired personnel, it does provide relief for approximately 630,000 disabled veterans and survivors.
President Obama is expected to sign the bill into law in the coming days.