| | | |
| --- | --- | --- |
| | | |
| | | |
| | | |
Brothers and Sisters, please be advised that payroll deductions for Benevolent and TV Fund will be withheld this pay period. Call any of your Executive Board Officers with questions.
June 30, 2014 – The IAFF is remembering the loss of 19 Prescott, Arizona fire fighters killed battling a fast moving wildfire near Yarnell on June 30, 2013. The deaths mark the greatest loss of fire fighter lives in a single incident since September 11.
The fallen Granite Mountain Hotshots are: Robert Caldwell, Travis Clay Carter, Eric Marsh, Jesse Steed, Travis Turbyfill, Clayton Whitted, Andrew Ashcraft, Dustin DeFord, Christopher MacKenzie, Grant McKee, Sean Misner, Scott Norris, Wade Parker, John Percin Jr., Anthony Rose, Joe Thurston, William Warneke, Kevin Woyjeck and Garret Zuppiger. "We will never forget this elite group of men, for they were not just fire fighters, but also husbands, fathers, sons and friends," says IAFF General President Harold Schaitberger. "All of them were very young and had much more to do in their lives. Our thoughts and prayers will be with the families today."
The 20-member Granite Mountain crew was working hard to contain the fire when the fast-moving fire overtook their position. Brendan McDonough survived the incident as he was on lookout duty in a separate location. In the emotional final moments of the memorial service honoring the 19 fallen brothers, McDonough, delivered the Hot Shot's Prayer. "I miss my brothers," he said. "I would like to thank my family and everyone else for supporting me."
Several public remembrances are planned. Additionally, Local 3066 and the 100 Club -- a charity that assists families of fallen fire fighters and police officers -- will be hosting a closed ceremony at the Arizona ¬Pioneer Home Cemetery for the families and area fire fighters.
On April 9, 2014, Lt. Edward Nieto was a member of the 3 member flight crew which crashed and caught fire on the roof of UNM during takeoff. Lt. Nieto injured his back and legs and lost consciousness. Upon regaining consciousness he discovered one member had evacuated, he was exiting himself when he noticed the pilot was buckled in and still unresponsive. With complete disregard for his own safety, Lt. Nieto crawled back into to helicopter, removed the pilot and carried him on his shoulders to safety. We are happy to report, that as a result of Lt. Jimmy Nieto's bravery all crew members have made a full recovery including himself. He continues to serve his community on life saving EMS flights when he is not serving with AFD.
The IAFF Local 244 Executive Board recognized Brother Nieto at AFD Station 17 with an Honoring Our Own ceremony on June 29, 2014.
June 18, 2014 – Today marks the seventh anniversary of one of the darkest days in IAFF history. On June 18, 2007, nine Charleston, South Carolina, fire fighters -- including members of Charleston Local 61 -- died in the line of duty as they fought to extinguish the Charleston Sofa Super Store fire. The nine were Louis Mulkey, Mike Benke, Melven Champaign, William Hutchinson, Rodney "Brad" Baity, James Drayton, Mark Kelsey, Michael French and Brandon Thompson.
"It is with a heavy heart that we remember our fallen brothers," says General President Harold Schaitberger. "But it is important that we never forget their sacrifice. We honor them each year at the IAFF Fallen Fire Fighter Memorial and each time we advocate for safe working conditions." The Sofa Super Store had no sprinkler system. Flames weakened the structure, causing it to collapse and trapping the nine inside. Fire fighters on the outside were unable to reach their trapped brothers in time to save them.
The land that once housed the Sofa Super Store was purchased by the City of Charleston and is now a city park. Memorial plaques have been placed in remembrance of the nine fire fighters who lost their lives. Charleston fire fighters gather at the site every year to reflect.
Click here for the final incident report on the fire. It recommended increased training and updates to fire ground procedures and apparatus.
On Thursday, June 19, 2014 the IAFF Local 244 Executive Board will present the County Chapter Bilingual Incentive Pay MOU for ratification by the membership pursuant to Article V, Section 6. Special Meetings & Article II, Section 4. Memorandums of Understanding. The meeting will begin at 7:00pm.
This year the AFD EMS training staff will graduate 17 of our own and three members from the Santa Fe County and Santa Fe City fire departments respectively from paramedic school. On the 24th of February all of these students passed their NREMT Paramedic skills testing and the final competency "Blue" exam with a 100 % pass rate. This is a major accomplishment for the students and instructors. The EMS instructor staff at AFD was recognized by IAFF Local 244 for their hard work and excellence. Drive Mike Jiron is the lead instructor for this class supported by Lieutenant Mike Martinez and Drivers Jason Hackett, Tim Woodard and John McGee. Congratulation's and keep up the good work!
The 2014 paramedic class will graduate on June 19, 2014 at 2:00pm at the Kimo Auditorium. All are invited to attend.



Members Sean Frazier and Matt Carpentier representing IAFF Local 244 at the Escape from Alcatraz Triathlon!
www.escapefromalcatraztriathlon.com
During this holiday weekend, the IAFF reminds all members and their families to please take a moment to remember and honor the men and woman in our military who have given the ultimate sacrifice for our country. The IAFF salutes all veterans and our IAFF brother and sister veterans for their military service and dedication to our nation. We appreciate the tremendous sacrifices these brave men and women have made as they served and are currently serving our nation in the armed forces. The IAFF also encourages members to participate in the many Memorial Day services and ceremonies that will be held over this Memorial Day weekend.
IAFF Memorial Day Message: http://www.youtube.com/watch?v=LY7NblK4uJg
Charity Motorcycle Ride for retired Firefighter Keith Heffelfinger (Rio Rancho Fire Dept).
When: June 7th, 2014. Kickstands up at 10:30 a.m.
Where: Rio Rancho Starbucks at Southern & Unser Blvd (near Rio Rancho Premiere movie theatre)
Ride Route: Through Rio Rancho to Sandoval County, Albuquerque and ending in Tijeras Canyon - stopping at Fire Stations to collect donations. $20 per bike donation requested.
For more information call Jeff McBrayer, Rio Rancho FD at 505-228-1891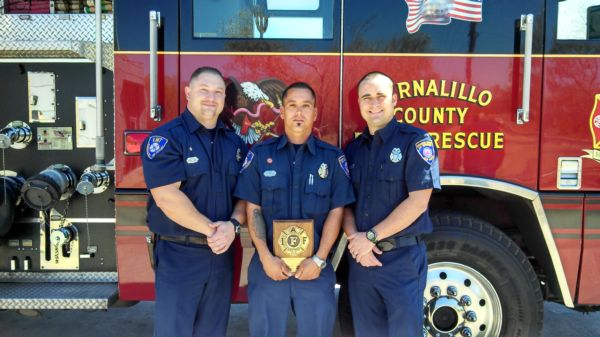 On October 10, 2013, BCFD E32, R32 responded to a cardiac arrest call. Upon arrival the crew discovered a female in cardiac arrest while clinic staff performed CPR. They took over resuscitation efforts and delivered multiple shocks, secured the airway, and gave IV drugs to correct the ventricular fibrillation. About 10 minutes into the resuscitation the patient regained an organized rhythm with strong pulses and was transported to UNMH with R32 personnel riding in. During transport the patient maintained a good pulse and had signs of regaining consciousness. Upon arrival at the emergency department she went back into cardiac arrest and in ventricular fibrillation. The Paramedic from R32 initiated CPR in the ER with hospital staff now working the code. After 1 cycle of chest compressions the patient again had a return of an organized rhythm with a good pulse and this time opened her eyes and was looking around as well as making purposeful movement with her arms. The IAFF Local 244 Executive Board honored Station 32 on April 8, 2014 acknowledging Lt. Anthony Gonzales, Eng. Jacinto Dominguez, Medic Steve Owensby, FF Daniel Flores and FF Jose Salaz for their efforts on this living saving call for service.