| | | |
| --- | --- | --- |
| | | |
| | | |
| | | |
The IAFF Local 244 Executive Board would like to thank all the members who participated in the 2013 General Election and especially the members and AFD Retirees who worked the poll sites and secured the voting process. We would also like to thank the candidates for their commitment to this membership and it's families. The majority of our races this year were duly elected by acclamation having no opponents nominated by the membership. This is a testament to trusted and established leadership. President Arencon will re-appoint Standing Committee assignments in January 2014 and is targeting IAFF members with less than 10yrs on the job. It is time to focus on the future of our great union and its leadership. Please submit letters of interest for Committee appointments to: iafflocal244@hotmail.com Read More...
The 2013 General Election will be held on December 10, 2013 and will include changes to the IAFF Local 244 Constitution & Bylaws. The proposed changes can be viewed in the Member Resources area of the iaff244.org webpage. After you have logged in scroll down to the Const./Bylaws Tab and select the 2013 Bylaws (PROPOSED CHANGES). The 2013 General Election announcement letter was recently mailed to all members (to the current address on file) in accordance with Article X, Section 1. of the Constitution & Bylaws.
Early Voting will continue through December 6, 2013 from 9:00am-3:00pm daily at the Union Hall.
On Election Day poll sites will be as follows: Union Hall - AFD Stations 8 & 17 - BCFD Stations 33 & 40. Polls will be open from 7:00am to 7:00pm.
Link to original posting: http://www.iaff244.org/index.cfm?zone=/unionactive/view_article.cfm&HomeID=300495
Download:

2013_Election_Announcement.pdf
The IAFF Local 244 Executive Board honored the AFD Station 11, C Rescue crew for selflessly assisting an elderly member of our community. Jacob Tapia and Jeremy Gonzales received special recognition for their acts of compassion; volunteering their time (off-duty) and money to fix her damaged fence after recognizing it needed to be fixed. It is very inspiring to see the positive effect of a single act of kindness. On November 13, 2013 the IAFF Local 244 recognized Lt. Jacob Tapia and Driver Jeremy Gonzales for their selfless commitment to our community.
From the beginning of the national debate on healthcare reform, the IAFF has been very clear about our position -- do no harm to our members, the fire fighters and paramedics who protect communities throughout this nation daily and when disaster strikes.

And from the beginning of the debate over what should and shouldn't be in the new healthcare law, we made our position very clear to our members, to other unions, and to members of Congress from both parties, and we made our position very clear to the Obama administration – over and over again.
Ultimately, after just about every segment of the population, industry, corporation and interest group in this entire country weighed in on the bill, in March of 2010, the Affordable Care Act (ACA) -- also known as Obamacare -- was passed and signed into law.

The law is massive, cumbersome, complex and very confusing.

On one hand, it's important to note that the law has some elements that are good and important for our members – your coverage can't be dropped when you or a member of your family is sick; insurance must cover the full cost of preventive care, including annual physicals and immunizations; you can't be denied coverage for pre-existing conditions; your children can stay on your plan until the age of 26, if needed; and there are no lifetime limits on benefits, among other things. These are all positive improvements for the healthcare of all consumers, including IAFF members and their families.

However, as everyone knows, there are also considerable, structural and long-term problems with Obamacare that extend well beyond the epic failure of the launch of the federal healthcare exchange web site.

Because the law was passed in such a dramatic, high profile and partisan fashion – supported by Democrats, while Republicans voiced loud opposition – there are a lot of half-truths, much misinformation and some outright lies being spouted by the talking heads on both sides of the issue.

To be clear and on the record once again, here's where the IAFF stands on the elements of the ACA that we know will most affect our members' healthcare today and going forward.

First, the promise President Obama made to the American people that, "if you like your healthcare you can keep it," is not true.

In addition, while the president claimed during his press conference on November 14 that when he made that declaration he was thinking about the 95 percent of people who are covered by employer-based insurance plans (like most union members) and those with Medicare, the problem is that it is not true for those groups, either.

While many pundits claim that only those with substandard coverage are losing their health insurance, the truth is that certain provisions of the ACA will impact the plan design and, ultimately, the survival of high-quality employer sponsored and union negotiated plans – including many of our members' plans.

Clearly, the new law will force changes in virtually every insurance plan on the market today – whether you hold an individual policy or are in a group plan like most IAFF members. Things are going to change. The only questions that remain to be answered fully are: How much change will there be? When will the changes occur? And how much will the changes help or hurt our members?

Because of the dramatic effects of the law, many IAFF members can expect insurance carriers to notify you of changes in your policies, including span of coverage, benefits offered within the plans and the amount of out-of-pocket costs you will pay. Some of these changes will have to be negotiated with your local, particularly in jurisdictions where healthcare is a subject of bargaining. But in many cases, members can just expect to be notified by insurance carriers or employers of increases in costs and changes to benefits.

The IAFF is working with a coalition in labor, with other stakeholders and with our friends in Congress to amend the law to eliminate or lessen the negative effects of the ACA on your healthcare plans.

The most dramatic and long range threat is the excise or "Cadillac" tax that will impose a 40 percent tax on high value plans beginning in 2018. This excise tax will apply to plans that charge premiums of $10,200 or more for single coverage or $27,500 or more for families. The tax will apply to amounts in excess of the thresholds. The tax will be imposed on the insurance companies that sell the plans, rather than on the plan participants. However, we expect that insurers will simply either stop offering high-quality plans, causing a reduction in benefits, or they will pass the cost on to our members.

The law also creates many problems for our self-funded/union-administered plans going forward, which will affect our members and their benefits. Your union remains at the forefront in trying to significantly change or repeal these portions of the law to protect your interests. Over the coming months and years, we will need to engage our grassroots network and communications efforts to win these battles.

The IAFF continues to believe that reform of the healthcare system in the United States is necessary to control the rising costs that plagued our members even prior to passage of the ACA. However, we promise to continue fighting on your behalf to fix the many problems that exist in the current law.

Over the coming weeks and months, the IAFF will be providing extensive communication, reference materials, tools and support to our affiliates and members, explaining in detail the provisions of the new law and help you develop and implement strategies for dealing with the ACA in bargaining or when talking with local decision makers, because there are many ways we can work to mitigate the negative effects that the new law will bring.

Stay tuned to www.iaff.org and watch your email for future updates.

Fraternally,




Harold A. Schaitberger
General President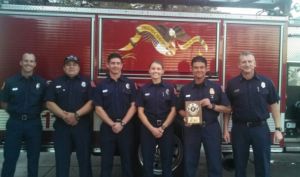 On October 16, 2013, E16, B shift responded to an activated Fire/Smoke alarm and found that the fire was not in the building of origin, but the structure to the west. They proceeded to pull a line for a direct attack. Upon reaching the door, Firefighter Valdez alerted the Officer of E16 that he could hear someone inside the structure. E16 called for additional rescue personnel and forced entry, finding a patient several feet from the entrance. The patient was removed from the structure and passed on to the AFD Paramedics of R8 and R16. The patient was not oriented and flaccid. E16 had difficulty reaching the seat of the fire in the kitchen do to the large amounts of accumulated personal belongings in the structure. With assistance from E9, excess belongings were removed and a passage was made towards the kitchen facilitating full extinguishment. E16 crew also rescued three cats from the structure. On November 8, 2013 the IAFF Local 244 Executive Board honored Lt. Joseph Luna, Lt. Erik Rasmussen, Driver David Cruz, Driver Jacob Gray, Firefighter Shannon Crawford and Firefighter Eric Valdez for their outstanding service.
The Albuquerque Area Fire Fighters Christmas Party will be held on December 13, 2013 at Hotel Albuquerque. Tickets are $20.00 and can be purchased at the union hall Monday through Thursday from 10am to 4pm. For more information call Kelly @ 505-288-2313.
Please submit nominations for Fire Fighter of the Year to: iafflocal244@hotmail.com or in person at the General Meeting on November 14, 2013 for the Executive Board to consider. We will honor one member from each chapter with the Fire Fighter/Paramedic of the year and one general member for the Outstanding Leadership award.
The Children's Christmas Party will be held on December 7, 2013 at ITZ starting at 11am please call Kelly for your family's reservation, an RSVP is required.
On October 7, 2013 the IAFF Local 244 Executive Board held an Honoring Our Own ceremony for BCFD Station 30, B. This crew responded with great courage and saved the life of BCSO Deputy Robin Hopkins. On October 26, 2013, they heard shots fired from inside the fire house and ran out to find Deputy Hopkins severely wounded. Without hesitation they aggressively treated her wounds, applied a tourniquet and transported her to the hospital. The IAFF Local 244 honored Lieutenant Anthony Gonzales, Engineer Alex Coriz, Firefighter Isaac Rowe, Firefighter Jeremiah Jensen Fisher and Paramedic Brandon Mosely.
The month of November brings a common tradition for firefighters. We grow out our mustaches in support of prostate and testicular cancer. Brother Matthew Wolf has created a new fundraiser for local firefighters allowing the community to benefit from our tradition. He is challenging local firefighters to grow their mustache and raise money in support of Random Acts and the IAFF Local 244 Firefighter Survivor's Fund. Competition will be between stations and firefighters to raise the most money. The intent is to motivate and encourage firefighters to participate in fundraising for these worthy causes. Please print Matt's letter and t-shirt order form below and get to growing!
Download:

Fire Stache Sponsor Letter.pdf ,

Fire Stache T-shirt Order Form.pdf
November 1, 2013 – General President Harold Schaitberger is urging President Obama to take immediate action and appoint a task force on wildland fires. In a letter to the president Schaitberger wrote, "Today's issues and challenges surrounding wildland fires are analogous to the issues surrounding urban fire problems of the previous generation. To address adequately the wildland issues, the federal government must take a lead role in coordinating and leading the effort."

The letter comes in the wake of an intense wildfire season that resulted in the tragic loss of numerous fire fighters, including 19 IAFF members in the Yarnell Hill fire.
The concept of a task force would be modeled after the National Commission on Fire Prevention and Control, which led to the landmark "America Burning" report surrounding the urban fire problem in the 1970s.
More than a dozen federal agencies, state and local governments, the fire service, industry, code enforcement agencies, insurance companies and scores of other entities have a direct interest in various components of wildland fires. Consequently, the federal government is the only entity that can properly unify the various participants to analyze the many issues associated with wildland fires and make recommendations to reduce their frequency, impact and scope.
A potential task force is expected to provide focus on matters such as the unique health and safety issues facing wildland fire fighters, appropriate staffing levels and modernizing wildland equipment and technology.
Read the letter here.
On October 31, 2013, The IAFF Local 244 Executive Board acknowledged the outstanding service of AFD Engine 4 and Rescue 1 C shift crews. Lt. Kerry Murphy, Lt. Albert Ortega, Dr. Joe Sanchez, Dr. Jason Hackett , FF Jose Chavez , FF Justin Craig all worked together and converted a man who suffered a heart attack. These brothers were honored at Station 4 and shared a meal with their crews and IAFF Executive Officers.